The Lotus Evora is based on the first all-new vehicle platform from Lotus Cars since the introduction of the Lotus Elise in 1995 (the Exige, introduced in 2000, and the 2006 Europa S are both derivatives of the Elise). The Evora is the first vehicle of three vehicles to be built on the same platform; the remaining two vehicles will be on sale by 2011.
The Evora is the first product of a five year plan started in 2006 to expand the Lotus line of cars. As such it is a larger car than recent Lotus models Elise and its derivatives (Exige, Europa S, etc.), with an estimated kerb weight of 1,350 kg (3,000 lb). It is currently the only Lotus model with a 2+2 configuration, although it has been announced that it will also be offered in a two-seater configuration, referred to as the "Plus Zero" option. It is also the only 2+2 mid engined coupé on sale. The interior is larger to allow taller persons to fit, such as Lotus CEO Mike Kimberley, and two 99th percentile (6'5") American males.
The cooled boot behind the engine is large enough to fit a set of golf clubs, although Lotus Design Head Russell Carr denies that this was intentional. Lotus intends the Evora to compete with different market sectors including the Porsche Cayman.
PowerTrain
Engine
Mid-mounted transverse 3.5 litre DOHC V6 VVT-i
Standard
Transmission
6-speed manual
Emissions
205 g/km CO2
Capacity
3456 cc
Bore/Stroke
94/83 mm
Valve configuration
4 valves per cylinder
Compression Ratio
10:1


Performance
Max Power
276 hp / 280 PS / 206 KW @ 6400rpm
Max Torque
350 Nm / 258 lb ft @ 4700rpm
0-100km/h (0-62 mph)
5.1 seconds
CO2 emissions
205 g/km
Unladen vehicle mass
1382 kg
Fuel consumption - urban
22.8 mpg (12.4 l/100km)
Fuel consumption - extraurban
43.5 mpg (6.5 l/100km)
Fuel consumption - combined
32.5 mpg (8.7 l/100km)
Fuel tank capacity
60 litres
1st gear ratio
3.538 :1
2nd gear ratio
1.913 :1
3rd gear ratio
1.218 :1
4th gear ratio
0.86 :1
5th gear ratio
0.79 :1
6th gear ratio
0.638 :1
Reverse gear ratio
33.831 :1
Final Drive
3.777 :1
Final Drive 5th - 6th
3.238 :1
Power to weight ratio
203 PS / 1000 kg
Maximum speed
162 mph (261km/h)
Weight distribution
39% front – 61% rear


******************************************************
TOP SPEED
******************************************************
Make : Lotus
Model : Evora
Tyre Size : 255/35 R19 (66.11 cm)
Redzone RPM : 6500
Final Reduction Gear :
-------------------------------------------
Gear Ratio
-------------------------------------------
1st : 3.538
2nd : 1.913
3rd : 1.218
4th : 0.860
5th : 0.790
6th : 0.638
-------------------------------------------
Final Reduction Gear Ratio
-------------------------------------------
1st : 3.777
2nd : 3.777
3rd : 3.777
4th : 3.777
5th : 3.238
6th : 3.238
-------------------------------------------
Speed & RPM
-------------------------------------------
1st : 60.61Kmh / 37.65Mph @ 6500 RPM
2nd : 112.10Kmh / 69.63Mph @ 6500 RPM
3rd : 176.07Kmh / 109.36Mph @ 6500 RPM
4th : 249.37Kmh / 154.89Mph @ 6500 RPM
5th : 316.65Kmh / 196.68Mph @ 6500 RPM
6th : 392.09Kmh / 243.53Mph @ 6500 RPM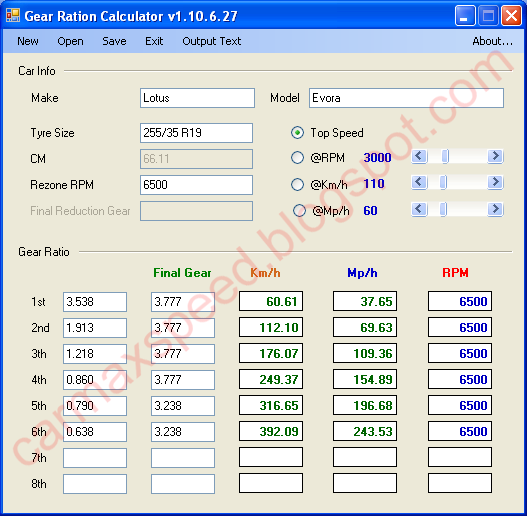 ******************************************************
110 KM/H
******************************************************
Make : Lotus
Model : Evora
Tyre Size : 255/35 R19 (66.11 cm)
Redzone RPM : 6500
Final Reduction Gear :
-------------------------------------------
Gear Ratio
-------------------------------------------
1st : 3.538
2nd : 1.913
3rd : 1.218
4th : 0.860
5th : 0.790
6th : 0.638
-------------------------------------------
Final Reduction Gear Ratio
-------------------------------------------
1st : 3.777
2nd : 3.777
3rd : 3.777
4th : 3.777
5th : 3.238
6th : 3.238
-------------------------------------------
Speed & RPM
-------------------------------------------
1st : 110.00Kmh / 68.32Mph @ 11790 RPM
2nd : 110.00Kmh / 68.32Mph @ 6370 RPM
3rd : 110.00Kmh / 68.32Mph @ 4060 RPM
4th : 110.00Kmh / 68.32Mph @ 2860 RPM
5th : 110.00Kmh / 68.32Mph @ 2250 RPM
6th : 110.00Kmh / 68.32Mph @ 1820 RPM
=The END=