The all-new Mk 2 Ford Focus was launched at the Paris Motor Show on September 23, 2004 as a three and five-door hatchback and an estate, although the new car was previewed, in 4-door saloon form, as the 'Focus Concept' developed by Ford Europe at the Beijing Motor Show in mid-2004.
Design and engineering
The Mk 2, codenamed C307, uses the Ford C1 platform which is shared with the Volvo S40, V50 and C70, Mazda3 and Focus C-MAX. Ford calls this platform sharing programme "Global Shared Technologies".
The basic suspension design, which contributed much to the Mk 1's success, has been carried over largely unchanged from its predecessor which, along with a 10% stiffer bodyshell, offers even better handling and ride according to Ford. The same body styles as the Mk 1 Focus were offered, though the saloon did not appear until mid-2005.
The Focus Mk 2 is much larger than its predecessor with a 25 mm (1 in) increase in wheelbase, 168 mm (6.6 in) longer, 8 mm (0.3 in) taller and 22 mm (0.8 in) wider. As a result the interior and boot space have increased. New technologies include a KeyFree system, a solar-reflect windshield, adaptive front lighting, Bluetooth hands-free phones and voice control for audio, telephone and climate control systems.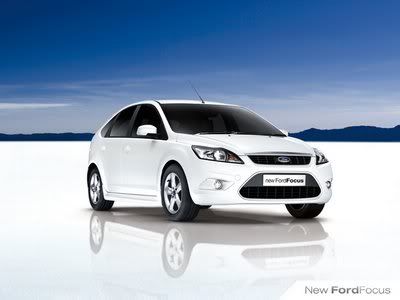 Engine:
Water-cooled, tranverse four cylinder turbodiesel displacing 1997cc, fed by common rail direct fuel-injection and intercooled, variable geometry turbocharger with four valves per cylinder and dual overhead camshafts.
Maximum power/torque:
100kW at 4000rpm / 320Nm at 2000rpm (340Nm on overboost).
Transmission:
Six-speed manual gearbox driving the front wheels.
Suspension:
Independent sports suspension in front and independent control blade multi-link with anti-roll bar at the rear.
Steering:
Power-assisted rack-and-pinion with height and reach adjustment on the steering column.
Brakes:
Anti-lock, discs all round, ventilated in front.
Wheels/tyres:
Alloy 16" rims with 205/55 tyres.
Dimensions/mass:
Length 4341mm, width 1991mm, height 1443mm. Mass 1366kg.
Capacities:
Four passengers, 55 litres fuel, 385- 821 litres boot.
Performance:
0-100km/h – 9.3secs. Top speed 205km/h (claimed).
******************************************
Top Speed
******************************************
Make : Ford
Model : Focus 2.0 TDCi PowerShift
Tyre Size : 205/55 R16 (63.19 cm)
Redzone RPM : 4500
-------------------------------------------
Gear Ratio
-------------------------------------------
1st : 3.583
2nd : 1.952
3rd : 1.194
4th : 0.842
5th : 0.943
6th : 0.789
-------------------------------------------
Final Reduction Gear Ratio
-------------------------------------------
1st : 4.067
2nd : 4.067
3rd : 4.067
4th : 4.067
5th : 2.900
6th : 2.900
-------------------------------------------
Speed & RPM
-------------------------------------------
1st : 36.78Kmh / 22.85Mph @ 4500 RPM
2nd : 67.52Kmh / 41.94Mph @ 4500 RPM
3rd : 110.38Kmh / 68.56Mph @ 4500 RPM
4th : 156.52Kmh / 97.22Mph @ 4500 RPM
5th : 196.00Kmh / 121.74Mph @ 4500 RPM
6th : 234.25Kmh / 145.50Mph @ 4500 RPM
******************************************
110 KM/H
******************************************
Make : Ford
Model : Focus 2.0 TDCi PowerShift
Tyre Size : 205/55 R16 (63.19 cm)
Redzone RPM : 4500
-------------------------------------------
Gear Ratio
-------------------------------------------
1st : 3.583
2nd : 1.952
3rd : 1.194
4th : 0.842
5th : 0.943
6th : 0.789
-------------------------------------------
Final Reduction Gear Ratio
-------------------------------------------
1st : 4.067
2nd : 4.067
3rd : 4.067
4th : 4.067
5th : 2.900
6th : 2.900
-------------------------------------------
Speed & RPM
-------------------------------------------
1st : 110.00Kmh / 68.32Mph @ 13450 RPM
2nd : 110.00Kmh / 68.32Mph @ 7330 RPM
3rd : 110.00Kmh / 68.32Mph @ 4480 RPM
4th : 110.00Kmh / 68.32Mph @ 3160 RPM
5th : 110.00Kmh / 68.32Mph @ 2520 RPM
6th : 110.00Kmh / 68.32Mph @ 2110 RPM
=The END=