The Kia Forte is a compact car manufactured by Kia Motors. It was launched in Korea in late 2008, and exported to North America starting in 2009, replacing the Spectra. In its first year, the Forte was Kia's top-selling car, with the company selling more than 300,000 units in the first year of launching.[3]
The Forte is marketed in China as the Fu-rui-di, meaning luck and auspiciousness in Chinese — with a pronunciation similar to its English name 'Forte'.
The Forte uses Kia's new corporate grille, known as the Tiger Nose, as designed by Kia's design chief, Peter Schreyer.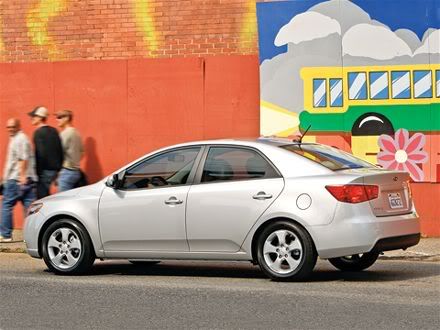 Engine
Engine capacity
1,591 cc
Engine type
4-cylinders in-line
Compression ratio
10.5
Bore x Stroke
(77.0 x 85.4) mm
Power
124 bhp
Torque
156 Nm
Performance
Acceleration
12s (0-100kmh)
Top speed
182kmh
Fuel consumption
14.2 km\L
Misc technical data
Transmission
4-speed (A)
Drive type
FWD
Measurements
Body type
Sedan
Dimensions (L x W x H)
(4530 x 1775 x 1460)mm
Wheelbase
2,650mm
Min turning radius
unknown
Kerb weight
1,326kg
Fuel tank capacity
52L
Brakes
Brakes (Front)
Ventilated disc
Brakes (Rear)
Disc
Suspension
Suspension (Front)
MacPherson struts
Suspension (Rear)
Coupled torsion beam axle
******************************************
Top Speed
******************************************
Make : Kia
Model : Forte 1.6 (Auto)
Tyre Size : 195/65R15 (63.45 cm)
Redzone RPM : 6500
Final Reduction Gear :
-------------------------------------------
Gear Ratio
-------------------------------------------
1st : 2.920
2nd : 1.550
3rd : 1.000
4th : 0.710
-------------------------------------------
Final Reduction Gear Ratio
-------------------------------------------
1st : 4.375
2nd : 4.375
3rd : 4.375
4th : 4.375
-------------------------------------------
Speed & RPM
-------------------------------------------
1st : 60.85Kmh / 37.80Mph @ 6500 RPM
2nd : 114.64Kmh / 71.20Mph @ 6500 RPM
3rd : 177.69Kmh / 110.37Mph @ 6500 RPM
4th : 250.27Kmh / 155.45Mph @ 6500 RPM
******************************************
110 KM/H
******************************************
Make : Kia
Model : Forte 1.6 (Auto)
Tyre Size : 195/65R15 (63.45 cm)
Redzone RPM : 6500
Final Reduction Gear :
-------------------------------------------
Gear Ratio
-------------------------------------------
1st : 2.920
2nd : 1.550
3rd : 1.000
4th : 0.710
-------------------------------------------
Final Reduction Gear Ratio
-------------------------------------------
1st : 4.375
2nd : 4.375
3rd : 4.375
4th : 4.375
-------------------------------------------
Speed & RPM
-------------------------------------------
1st : 110.00Kmh / 68.32Mph @ 11740 RPM
2nd : 110.00Kmh / 68.32Mph @ 6230 RPM
3rd : 110.00Kmh / 68.32Mph @ 4020 RPM
4th : 110.00Kmh / 68.32Mph @ 2850 RPM
=The END=