The Audi R8 (Typ 42) is a sports car with a longitudinally mounted mid-engine, and uses Audi's trademark quattro permanent four-wheel drive system. It was introduced by the German automaker AUDI AG, a subsidiary of Volkswagen Group, in 2006.
The car was exclusively designed, developed, and manufactured by AUDI AG's high performance private subsidiary company, quattro GmbH, and is similar to the Lamborghini Gallardo.The fundamental construction of the R8 is based on the Audi Space Frame,and uses an aluminium monocoque which is built around space frame principles. The car is built by quattro GmbH in a newly renovated factory at Audi's 'aluminium site' at Neckarsulm in Germany.
AUDI AG unveiled the Audi R8 V10 on 9 December 2008. It uses a 5.2 litre FSI engine, based on the unit in the Lamborghini Gallardo LP560-4 (which in turn was based on the 5.2 FSI V10 as used in the Audi C6 S6 and Audi D3 S8), but is re-tuned to produce a power output of 386 kilowatts (525 PS; 518 bhp), and generate 530 newton metres (391 ft·lbf) of torque. Compared to the V8 variant, the R8 V10's performance numbers are enhanced. Audi states the new 0 to 100 kilometres per hour (0 to 62.1 mph) time as only 3.9 seconds, 60 to 124 miles per hour (97 to 200 km/h) in 8.1 seconds, and a top speed of 317 kilometres per hour (197.0 mph). Other changes to the V10 version of the R8 include some aesthetic differences: such as all-LED headlights (a world-first), interior enhancements such as Bang & Olufsen 465 watt sound system, and a more aggressive body styling, larger rear brakes and unique roadwheels.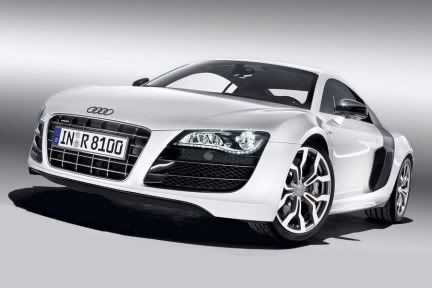 ENGINE:
Type: 5.2 liter V10 spark-ignition engine with FSI direct Injection, 90 degree cylinder angle, 4-valve technology, double overhead camshafts (DOHC), intake manifold
with charge movement flaps, naturally-aspirated high-revving setup to 8700 rpm,
Max rpm 8700 rpm
Arrangement Mid mounted, longitudinal
Bore 3.33 in. 84.5 mm
Stroke 3.65 in. 92.8 mm
Displacement 317.6 cu. in. 5,204 ccm
Compression ratio 12.5:1
Fuel requirement Premium unleaded
Horsepower (SAE) 525 hp @ 8000 rpm
Max. Torque 391 lbs.ft. @ 6500 rpm
ENGINE DESIGN:
Cylinder block Aluminum alloy incorporating silicon crystals
Connecting rods Forged steel
Pistons Aluminum
Crank case High strength aluminum alloy casting
Crankshaft Forged steel, 5 main bearings
Cylinder head
Valve train / intake Continuous intake and exhaust camshaft adjustment, DOHC chain driven
Firing order 1-6-5-10-2-7-3-8-4-9
Cooling system Water-cooled, thermostatically controlled radiator fan
Lubrication system Dry sump oil system
Fuel injection / Ignition system
Emission system
Fuel Super Plus ROZ 98 / Premium unlead (91 AKI)
ELECTRICAL SYSTEM:
Battery 110 amp/hr
Alternator 14 volts 190 amp
DRIVETRAIN:
Transmission 6-speed manual transmission with launch control, Available R tronic (shift times usually less than 0.1 secs) with launch control
Gear ratios:
1st/2cnd 4.373/2.709 4.373/2.709
3rd/4th 1.925/1.502 1.925/1.502
5th/6th 1.239/1.035 1.239/1.035
Reverse 3.713 3.713
Final Drive 3.077 3.077
Center Differential Viscous clutch
STEERING:
Type Hydraulically assisted rack-and-pinion steering
Ratio 17.3
Turning circle (curb-to-curb) 38.7 ft. 11.8 m
SUSPENSION:
Front Double aluminum wishbone front suspension (higher tuning than V8)
Rear Double aluminum wishbone rear suspension (higher tuning than V8)
BRAKES:
Service brake Disc brakes, internally vented, 8-piston brake callipers at front and 4-piston at rear
Front size 14.4 in. 365 mm
Rear size 14.0 in. 356 mm
Parking brake Mechanically actuated at the rear wheels
WHEELS (standard only):
TIRES (standard only):
Size Front: 235/35 91Y and Rear: 295/30 100Y
BODY:
Material Audi space frame (ASF)
Corrosion protection Multi-step anti-corrosion protection
EXTERIOR DIMENSIONS:
Wheelbase 104.3 in. 2,650 mm
64.3/ 62.8 in. 1,632/ 1,595 mm
Overall length 174.6 in. 4,435 mm
Overall width w/o mirrors 76.0 in. 1,930 mm
Height 49.3 in.
PERFORMANCE:
0-60 mph 3.7 sec.
0-100 km/h 3.9 sec.
0-200 km/h 12.0 sec.
Top speed 196 mph
Lateral acceleration 1.2 g
******************************************************
TOP SPEED
******************************************************
Make : Audi
Model : R8 V10 5.2 FSI
Tyre Size : 235/35R19 (64.71 cm)
Redzone RPM : 8700
Final Reduction Gear : 3.077
-------------------------------------------
Gear Ratio
-------------------------------------------
1st : 4.373
2nd : 2.709
3rd : 1.925
4th : 1.502
5th : 1.239
6th : 1.035
-------------------------------------------
Speed & RPM
-------------------------------------------
1st : 78.87Kmh / 48.98Mph @ 8700 RPM
2nd : 127.31Kmh / 79.07Mph @ 8700 RPM
3rd : 179.16Kmh / 111.28Mph @ 8700 RPM
4th : 229.61Kmh / 142.62Mph @ 8700 RPM
5th : 278.35Kmh / 172.89Mph @ 8700 RPM
6th : 333.21Kmh / 206.97Mph @ 8700 RPM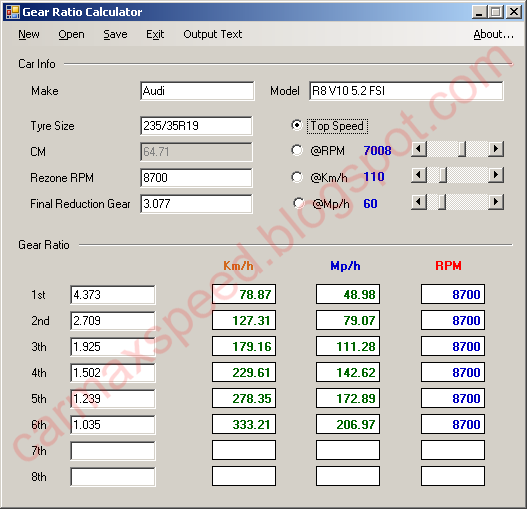 ******************************************************
110 KM/H
******************************************************
Make : Audi
Model : R8 V10 5.2 FSI
Tyre Size : 235/35R19 (64.71 cm)
Redzone RPM : 8700
Final Reduction Gear : 3.077
-------------------------------------------
Gear Ratio
-------------------------------------------
1st : 4.373
2nd : 2.709
3rd : 1.925
4th : 1.502
5th : 1.239
6th : 1.035
-------------------------------------------
Speed & RPM
-------------------------------------------
1st : 110.00Kmh / 68.32Mph @ 12130 RPM
2nd : 110.00Kmh / 68.32Mph @ 7510 RPM
3rd : 110.00Kmh / 68.32Mph @ 5340 RPM
4th : 110.00Kmh / 68.32Mph @ 4160 RPM
5th : 110.00Kmh / 68.32Mph @ 3430 RPM
6th : 110.00Kmh / 68.32Mph @ 2870 RPM
=The END=